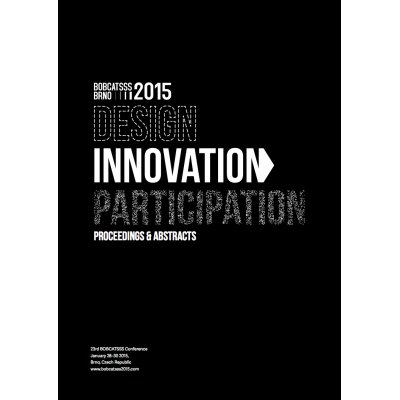 Design, innovation, participation
Pavla Minaříková (editor), Lukáš Strouhal (editor)
Vydání: 1. vyd.
Vydavatelství: Brno: Flow
Rok vydání: 2015
ISBN: 978–80–88123–00–2

Klíčová slova: bobcatsss, proceedings, abstracts, conference, design, innovation, participation
Pro získání musíte mít účet v Citace PRO.
Anotace: For 23rd BOBCATSSS conference we made Desing, Innovation and Participation main themes, as we believed that this triad represents important aspects of everyday lifes for both individuals and institutions.Zobrazit více »

Designing virtual spaces, games and even societies, innovating libraries, their collections and services, exploring the wishes and needs of their users and participating in scientific community, those are some of the broader topics present in the contributions.

Thanks to the authors, both students and professionals, we recieved 97 abstracts, from which with the great help of our reviewers we selected 37 papers, 14 posters, 5 workshops and 5 pecha kuchas to be presented at the conference. Those are the total 61 contributions which full texts and abstracts – together with three amazing keynote speeches – you can find in this (e-)book.

Every year, BOBCATSSS is organized by students of library and information science from at least two universitites, this year by teams from Masaryk University in Brno and the University of Tampere. Conference attracts many students and professionals, it was pleasure to welcome all the participants from 23 countries in Brno and now we hope the proceedings will spread the word further on.
Citace: MINAŘÍKOVÁ, Pavla a Lukáš STROUHAL, ed. Design, innovation, participation. Brno: Flow, 2015. ISBN 978–80–88123–00–2.